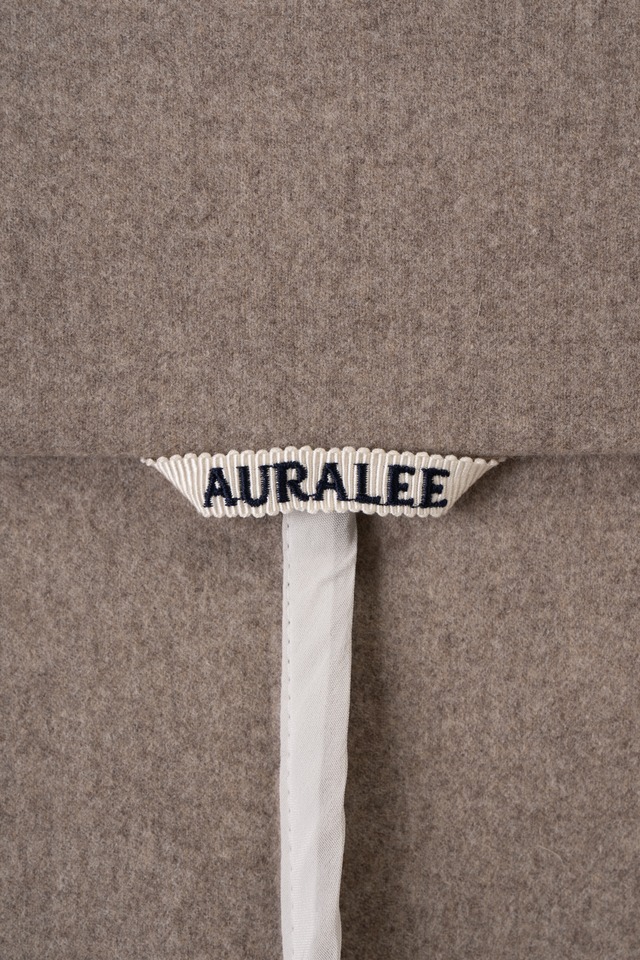 羽織 / Y. & SONS×AURALEE / WOOL FLANNEL / BEIGE(With tailoring)
Japan domestic shipping fees for purchases over ¥8,800 will be free.
Shipping fee is not included. More information.
オーラリーは、デザイナー 岩井良太氏が2015年春夏シーズンからスタートさせた日本のブランドです。ブランドのアイデンティティは、「他に類を見ない、品質のストイックな追求」にあります。コレクションはいつも、上質な素材の膨大なリサーチで始まり、創作の大半を生地作りに費やすといいます。
岩井氏はコレクションのインスピレーションを、「その日の天気だったり、日々の生活を取り巻く色だったり、旅だったり。でも一番のインスピレーション源は、素材や生地そのものですね」と語っています。

Y. & SONS では21年春夏シーズンより、AURALEEオリジナルの生地をきもの・羽織として展開致しております。
今回は、AURALEE 21年秋冬コレクションで展開されているシャツやパンツの生地を、きもの・羽織にオーダーメイドいただけます。

生地は、ニュージーランド産のスーパー160'sウール原料を極細の梳毛の杢糸に紡績し、ゆっくりと時間をかけ、限界まで縮絨させて織り上げたウールフランネルを採用。たて糸、よこ糸ともに杢糸を使用した深みのある色味と、柔らかく上質な光沢と滑らかな素材が特徴です。
※AURALEE 21年秋冬商品の "WOOL FULLING FLANNEL" のシャツ・スラックス生地を使用。

きものに仕立てた際にも特に重たさを感じることなく、とてもきれい目に着ていただけますので、羽織とのセットアップでフォーマル感も演出でき、またフランネル地で暖かいので寒い冬にも活躍してくれます。


素材:ウール100%
仕立:単衣(男性 or 女性)
寸法:ご注文確認後、弊店よりご連絡させていただきます。
納期:寸法確定後、約3週間
《 Order Guide よりご注文の流れをご確認ください 》
Order Guide(日本語) :
https://onlineshop.yandsons.com/p/00012

※ 価格は仕立て代込です。
※ こちらは羽織単体のページです。
※ 画像に使用している羽織紐は別売りです。
※ オリジナルたとう紙にお包みし、オリジナルきものBOXに入れてお送り致します。
※ クリーニングは弊店でも承っております。お気軽にご相談ください。

AURALEE is a Japanese brand started by designer Ryota Iwai in the 2015 Spring / Summer. The brand's identity lies in its "unparalleled, stoic pursuit of quality. "Collection always
begins with a huge amount of research on fine materials and spends most of his creations on making fabrics.
Mr. Iwai used the inspiration for the collection as "the
weather of the day, the colors surrounding everyday life, and sometimes the journey. But the number one source of
inspiration is the material and the fabric itself. " says Mr.
Iwai.

From the 2021 Spring / Summer, We have been developing
with AURALEE's original fabrics as Kimono and Haori.
This time, you can make custom-made Kimono and Haori
using fabrics for shirts and pants developed in the AURALEE
Autumn / Winter 21 collection.

The fabric is wool flannel, which is made by spinning New
Zealand's Super 160's wool raw material into ultra-fine
worsted yarn, slowly squeezing it to the limit, and weaving it.
Both warp and weft are characterized by deep color using
mock twist yarn, with soft, high-quality luster and smooth
material.
* AURALEE's "WOOL FULLING FLANNEL" shirt and slacks
fabric, which is a Autumn / winter 21 product, is used.

Even when it is made into a Kimono, you can wear it very
beautifully without feeling the weight, it gives you a formal
impression by setting it up with a Haori, and it is also active
in the cold winter since its flannel.

Material: 100% wool
Tailoring: Unlined garment (men's and women's)
*We also accept tailoring with liners, too. With additional
cost to the liner.
Size: We will contact you after confirming your order.
Delivery time: About 3 weeks after the measurements are
confirmed.

《Before placing an order, please check this link below. 》
Order Guide(English) :
https://onlineshop.yandsons.com/p/00010

* It's subject to the tax exemption.
* International shipping is available. To examine the shipping, please contact us before purchase.
* This page is for purchasing a Haori jacket only.
* The haori cord used in the image is sold separately.
* We will wrap it in original paper and send it in the original
kimono box.
* Please feel free to contact us if you have any questions.
Reviews

(54)

Shipping method / fee

Payment method