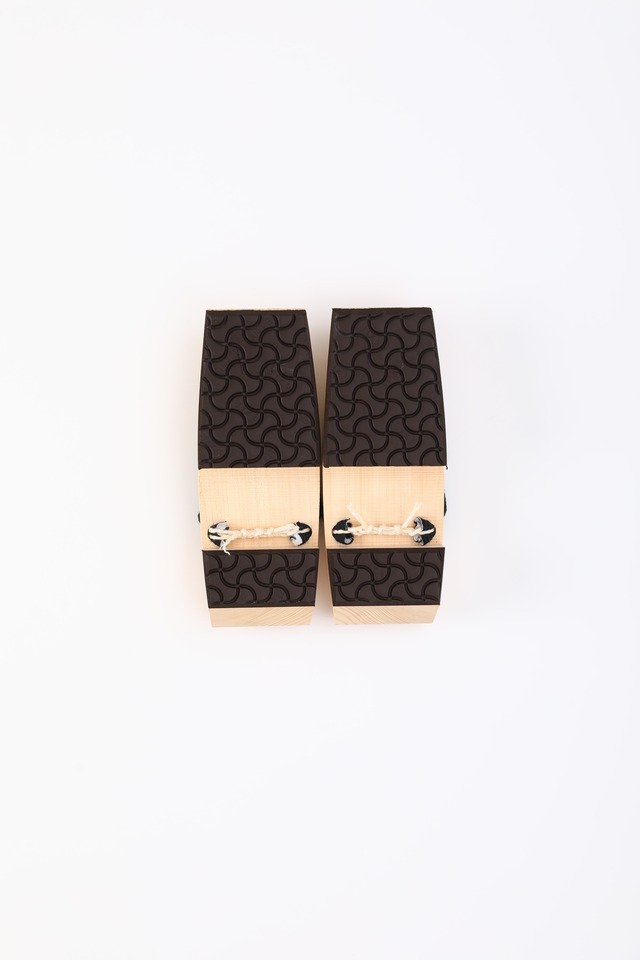 下駄 / 郡上木履別注 / 蓮弁 / ビルケンソール / 片貝綿ちぢみ・2Line
¥19,800 tax included
the last one
Japan domestic shipping fees for purchases over ¥8,800 will be free.
Shipping fee is not included. More information.
郡上木履は、「メイドイン郡上」にこだわり、郡上の山で育ったヒノキを活用し、 木の削り出しから鼻緒すげまで、一貫して郡上内で行われています。

こちらの商品は、右近下駄と呼ばれる歯がないタイプの下駄にスポンジソールを貼り、普段使いしやすい下駄に仕上げられています。
蓮の花弁のように柔らかく凛としたものをイメージし「蓮弁」と名付けされました。
鼻緒にはY. & SONS ゆかたの生地を使用しています。
(専用パッケージ付き)

素材:
台・檜
塗装・蜜蝋ワックス
底・ビルケン社製スポンジソール(7mm)
鼻緒表・綿100%
鼻緒裏・テトロンスエード
サイズ・フリー(縦の長さ25cm、巾9.5cm、踵高4cm)

※ 天然素材を使用しているため、イメージと木目が多少異なることがあります。
※ International shipping is available.To examine the shipping,
please contact us before purchase.
※ It's subject to the tax exemption.

Geta / Gujo-Kizuki Custom-Order / Lotus Petal / Birken Sole / Katagai Chijimi, 2 Line

These Geta (Japanese wooden sandals) are made in "Gojo" a town in central Japan. The whole entire process of the production takes place here. From growing the Hinoki Cypress trees, carving the base of the sandal, and attaching the straps.

This style of footwear is called "Ukon Geta" A layer of sponge is attached to the sole of the geta making it perfect for day to day wear.
The name "Renben" meaning Lotus Petal, was chosen as the Geta, like a lotus petal, are light, and graceful.
The fabric strap is made from our original Y. & SONS fabric.
(The geta also come in a specially designed box and Hinoki Cypress deodorizer)

Material
Base: Japanese Hinoki Cypress
Coating: Beeswax
Sole: Birkenstock sponge sole (7mm)
Strap Front: Linen
Strap Back: Tetoron Suede
Size: Free (length 25cm, width 9.5cm, heel height 4cm)

* The grain of the wood may differ slightly from the image due to the use of natural materials.
**Geta are often one size and worn slightly smaller than the foot. You may find the back of your foot will extend a few centimeters over the back platform.
Reviews

(54)

Shipping method / fee

Payment method