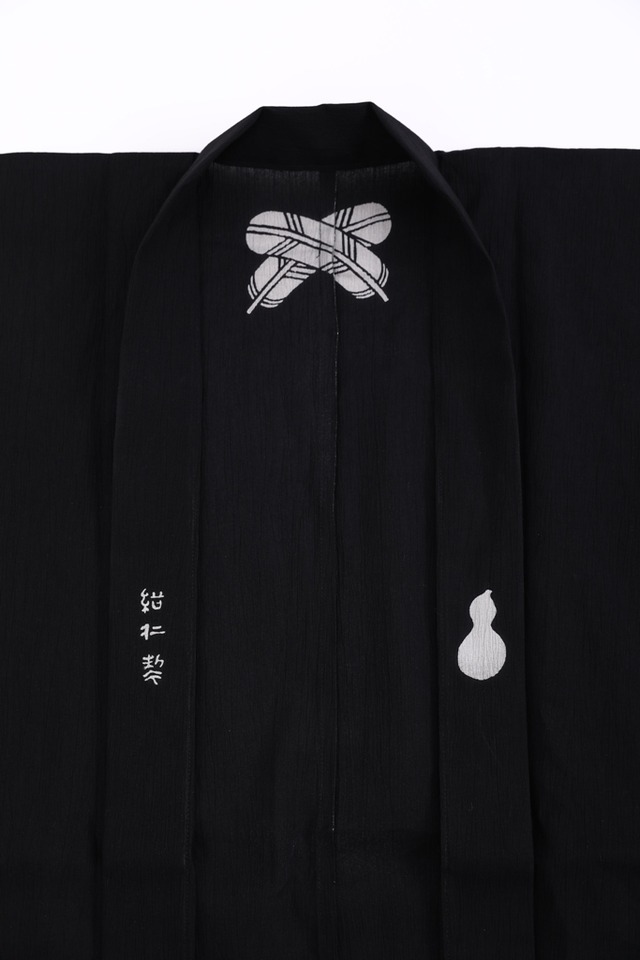 角袖半纏 / 越後片貝綿ちぢみ / 神田 / 反り違い鷹の羽 / Black(Ready-made)
SOLD OUT
Japan domestic shipping fees for purchases over ¥8,800 will be free.
Shipping fee is not included. More information.
Y. & SONS オリジナル・コレクションより。

新潟県は小千谷市、片貝町にある1751年創業の紺仁染織工房。
小千谷ならではの技法でよこ糸に強い撚りをかけて独特のシボを出しています。しぼは糊抜きと同時に一反一反揉んで出しています。

衿には「神田」、
背にはY. & SONSロゴの「反り違い鷹の羽」。

素材:綿100%
仕立:単衣
寸法:ワンサイズ(丈104cm, 裄74cm)
納期:ご入金確認後、ご発送

※ オリジナルたとう紙にお包みし、オリジナルきものBOXに入れてお送り致します。
※ 半纏は基本的には洗わずに着古して頂ければ一番良いですが、最初のうちは色落ちし易いですし、着用後の汚れ等が気になる場合は着用前後に1~2回程水、又はぬるま湯で付け置き洗いを行い、裏返して丈を引っ張り形を整えた後、日光を避けた場所での陰干しをお勧めします。
※ お洗濯の際は、洗濯機、脱水機を使わず、水またはぬるま湯でお願いいたします。汚れ、臭いが気になる場合は洗剤を使っていただいても結構ですが、必ず漂白性の無い中性洗剤を使用し、色移りを避けるため他のものと一緒に洗濯されないよう御注意ください。洗剤を使うと色落ちが早くなりますので御理解ください。
※ アイロンをかける場合は当て布をして下さい。
※ 手染めの性質上、生地により身丈が若干縮む場合がございます。
※ 紫外線や湿度の高い場所で保管されますと色焼けの原因になりますので御注意ください。特に藍染めは焼け易いので黒いビニール袋に良く乾燥させた半纏を入れて紫外線と外気を遮断し保管してください。


From the Y. & SONS original collection.

Konni Koubou (dyeing and weaving workshop) was founded in 1751 in Katakaimachi, Ojiya City.
The indigo dyeing is characterized by a strong dark indigo color among the natural indigo dyes, and is called Echigo Shou-ai indigo dyeing.

On the right collar, "Kanda" is written in Kaku-moji (a traditional calligraphy of Japanese characters), and on the left, "Tokyo".
And on the center back, the crest "Sori-chigai Taka no Ha (Wrapped hawk wings)" is dyed.

Material: 100% Cotton
Tailoring: Unlined garment (men's and women's)
*We also accept tailoring with liners, too. With additional
cost to the liner.
Size: We will contact you after confirming your order.
Delivery time: About 2 weeks after the measurements are
confirmed.

《Before placing an order, please check this link below. 》
Order Guide(English) :
https://onlineshop.yandsons.com/p/00010

* It's subject to the tax exemption.
* International shipping is available. To examine the shipping, please contact us before purchase.
* This page is for purchasing a Haori jacket or Kimono only.
* Other products than Kimono and Haori used in the image
are sold separately.
* For washing, use a non-bleaching detergent and gently
press and wash by itself, dehydrate lightly, and dry in the
shade. Avoid prolonged immersion.
* In particular, indigo dyeing may cause color transfer to other items due to sweat or friction, so if color transfer should occur, please wash as soon as possible.
* The black-brown grains attached to the surface of the fabric are cotton skin, so please understand it as a characteristic or evidence of natural fibers.
* Indigo dyeing has the property of easily causing color burning, so please dry it well and put it in a plastic bag in a place where it is not exposed to ultraviolet rays, etc., and store it in a closed place from the outside air.
* We will wrap it in original paper and send it in the original
kimono box.
* We also offer cleaning, too, so please feel free to contact
us if you have any questions.
Reviews

(57)

Shipping method / fee

Payment method
¥77,000 tax included
SOLD OUT